Prabhat Koli | Indian Open Water Swimmer

India Open Water Swimmer Prabhat Koli is a Mumbai-based Indian who competes in international competitions. Koli received the Tenzing Norgay National Adventure Award in 2018, which was presented by Shri Ramnath Kovind, the President of India, during a ceremony in New Delhi. The Maharashtra government also presented him with the Shiv Chhatrapati Award.
Prabhat Koli | Open Water Swimmer
He broke the previous year's record set by Honoka Hasegawa of Japan, who was 18 years, four months, and twenty days old. The Chembur resident was 18 years, one month, and five days old when he successfully swam across the turbulent waters of the Tsugaru Channel. Young Koli finished the Tsugaru channel in nine hours and 52 minutes, setting a new record.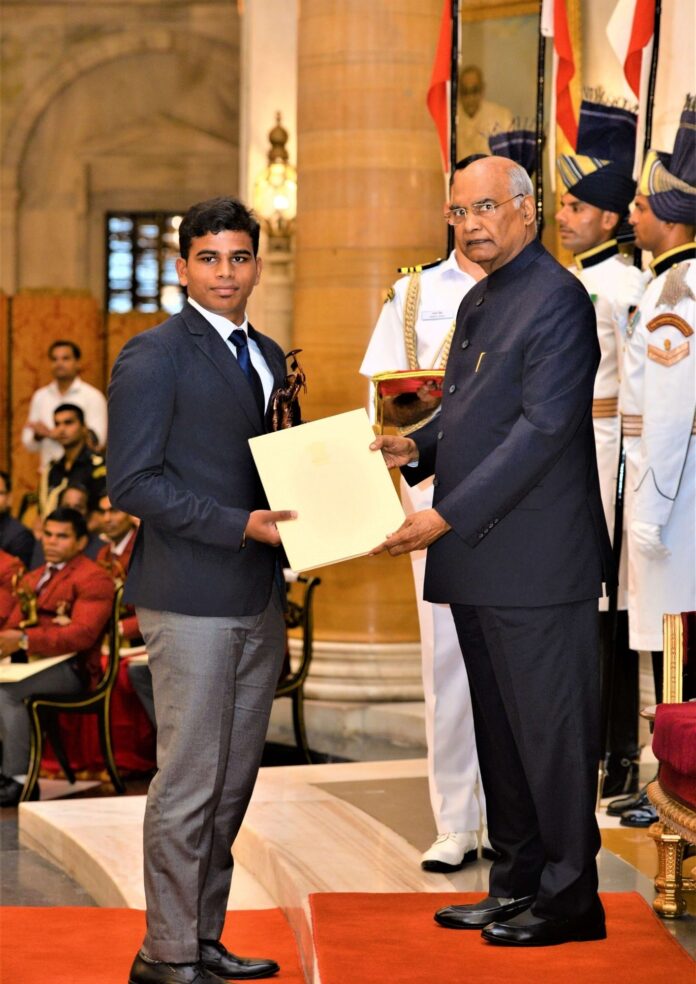 Prabhat Koli, a Mumbai native, is on a mission to complete the Ocean Seven, one of the world's most dangerous swimming challenges and has already broken several world records in the process.
Prabhat Koli is a long-distance open-water swimmer who stands out among his peers. He is currently attempting to complete the seven oceans challenge. In 2019, he was presented with the Tenzing Norgay Adventure National Award and the Shiv Chhatrapati Award by the Maharashtra government. He has already completed six of the seven channels, putting him within striking distance of his goal.
Prabhat has etched his name into the annals of swimming history as the world's youngest swimmer to complete the Tsugaru Channel and the North Channel on the same day. As well as making his way into the Limca Book of World Records, he discovered two new routes while swimming in the wild waters of South Africa, which he entered into the book. Prabhat has accomplished all of this and more at just 19 years old, which is extremely young. Prabhat is currently sponsored by the Indian company Airavat.
Prabhat said that when he was eight years old, he completed an 81-kilometer open water course in West Bengal's Murshidabad. Like all aspiring and ambitious athletes, Koli hopes to compete (and win) at the Olympics one day. Never Give Up In Life!
Open Water Swimming Career Highlights
He completed the 81-kilometer India National Open Water Swimming Competition in the Bhagirathi River in West Bengal, one of his career highlights in open water swimming.
On August 18, 2015, he completed a 66-kilometer solo circumnavigation swim around the island of Jersey in 10 hours and 11 minutes at 18 degrees Celsius. He was the first Asian swimmer to complete this swim, and he made history by doing so.
On September 20, 2015, at the age of 16, he swam 34 kilometers across the English Channel in 13 hours and 14 minutes in temperatures of 18 degrees Celsius.
On March 28, 2016, he completed the 8-kilometer Langebaan swim from Preekstoel to Parties rest at Langebaan in Cape Town, South Africa, in 1 hour 55 minutes in 17 degrees Celsius. He was 16 years old at the time.
When he was 16, he completed a 7.4-kilometer swim from Robben Island to Blouberg in 2 hours and 2 minutes, placing him eighth overall in 14-degree water.
On April 8, 2016, he swam 8 kilometers around the Cape of Good Hope as part of the Cape Point Swim, finishing in 1 hour 55 minutes and placing him second in 14-degree water at the age of 16.
On April 13, 2016, he swam 8 kilometers from Llandudno to Camps Bay in water temperatures ranging from 13oC to 15oC in 2 hours 14 minutes, breaking the previous record of 2 hours 24 minutes set by Andrew Chin.
During a swim from Blouberg to Robben Island to Melkbos in South Africa on April 15, 2016, he completed the 18-kilometer journey in 5 hours and 30 minutes at 16.
In April 2016, he was 16 years old and completed the 10 km swim around Robben Island in 3 hours and 5 minutes in 15oC to 16oC water in 3 hours and 5 minutes.
Swimming around the island of Jersey in 10 hours and 11 minutes was his personal best time in 2016.
On August 8, 2016, at the age of 17, he completed a 32.3-kilometer swim across the Catalina Channel from Santa Catalina Island to the Southern California mainland in 10 hours and 30 minutes.
On June 7, 2017, at the age of 17, he completed a 42-kilometer swim across the Molokai Channel from Molokai Island to Oahu in 17 hours and 22 minutes.
In June 2017, he finished 9th in the 20 Bridges Manhattan Swim around Manhattan Island in New York in 8 hours 5 minutes 7 seconds, becoming the youngest male to complete the Triple Crown of Open Water Swimming. He was only 17 years old at the time of the race.
In July 2017, at the age of seventeen, he completed a 15.2 km crossing of the Bodenseequerung from Lindau, Germany, to Rorschach, Switzerland in 5 hours and 11 minutes, becoming the youngest person to do so.
On September 11, 2017, he completed a 19.5-kilometer swim across the Tsugaru Channel from Honshu to Hokkaido in 9 hours 52 minutes, making him the youngest swimmer in history to do so at the age of 18 years, one month, and 15 days, according to the World Swimming Federation.
The 35-kilometer crossing from Northern Ireland to Scotland, which he completed in 10 hours 41 minutes on August 4, 2018, made him the youngest person in 19 years.
On April 21, 2019, he and his teammates Nathan Payas of Gibraltar, Ravi Sandesh of Mumbai, India, and Jenny Fitzgerald of Jersey completed a 14.4-kilometer crossing of the Strait of Gibraltar from Spain to Morocco in 4 hours and 25 minutes.
His attempt to cross the Cook Strait to complete the Oceans Seven on February 20, 2020, was cut short after 8 hours and 24 minutes in the water with coach Sally Minty-Gravett on his escort boat, and he was pulled from the water.
Prabhat Koli Video
Honors
In New Delhi, India, he was presented with the Tenzing Norgay National Adventure Award in the Water Category for his efforts.
The Shiv Chhatrapati Award, which is Maharashtra's highest honor in the field of adventure swimming.
The World Open Water Swimming Association in California, USA, recognized her as the youngest Asian to have achieved the Triple Crown of Open Water Swimming.
He holds the Guinness World Record for being the world's youngest swimmer in the North Channel of the United Kingdom. Read Motivational Quotes!
External links
Related Articles